CBD Lion is owned and managed by the Lundgren family. A team of experts in the medical and recreational cannabis space operates the company, so you can expect that its products are safe and effective.
This brand offers an extensive list of CBD products and ensures its products undergo testing by a certified third party. Its CBD products come in different formulations and potencies; all made with organic ingredients.
Let's check out what this brand offers in this CBD Lion review. Let's also discuss what makes this family-owned business stand out from the rest.
Company Rating
Rating: 4/5
CBD Lion is famous for its wide variety of CBD products, including tinctures, capsules, topicals, and vape oils. It also has a line of pet CBD products for pets suffering from aggression, anxiety, lack of appetite, or joint pain. This company's CBD products come in many formulations, types, flavorings, and potencies. Everything is also reasonably priced.
CBD Lion Details
What sets CBD Lion apart from the pack? Why is it the go-to place for many CBD users?
Source of Hemp
CBD Lion proudly sources its organic hemp from some of the best industrial hemp growers in Oregon, Colorado, and Kentucky. These states are known for their premium-grade, non-GMO industrial hemp as well as the best organic farming practices.
Third-Party Testing
All CBD Lion's products are sent for lab testing to a certified third party. The lab test measures the concentration or potency of the products' cannabinoids and terpenes. It also looks for traces of contaminants like synthetic pesticides, artificial fertilizers, pathogenic microorganisms, mycotoxins, residual solvents, and heavy metals.
The products' certificates of analysis are available on the company's website, and you can check them out before purchasing. CBD Lion also pioneered the QR Code of the lab results, which are placed on the actual product packaging.
We found that some of its products have outdated lab test results and need updating.
Contact Information
You can contact the CBD Lion team through the company website's Contact Us page. You may also get in touch with them via [email protected] or 833-223-2329.
For more information about the brand's products and services, you may want to visit their blog and FAQ section.
Pros & Cons
CBD Lion is competitive in many areas — from its products to its customer service. Of course, CBD Lion also has some weaknesses. Here are the brand's pros and cons.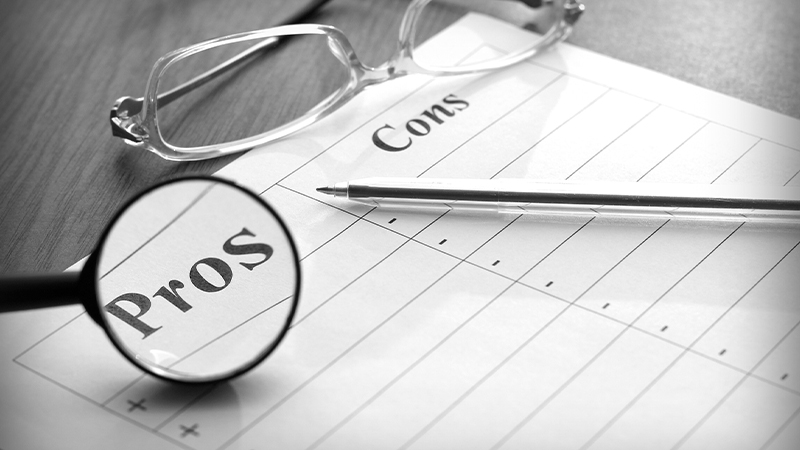 Pros of CBD Lion
Here are a few advantages that CBD Lion has to offer:
Wide variety of CBD products, including pet CBD products
Uses organic hemp and other ingredients
Lab-tested for potency and purity by a verified third party
Uses full-spectrum and broad-spectrum CBD as well as CBD isolate
Reasonably priced
Professional customer service team
Cons of CBD Lion
Some disadvantages of CBD Lion include:
Some lab test results need updating
The restocking fee on returns is a bit high at 30%
2022 Product Reviews: CBD Lion
Let's get to know some of the brand's bestselling products.
1. CBD Oil Tincture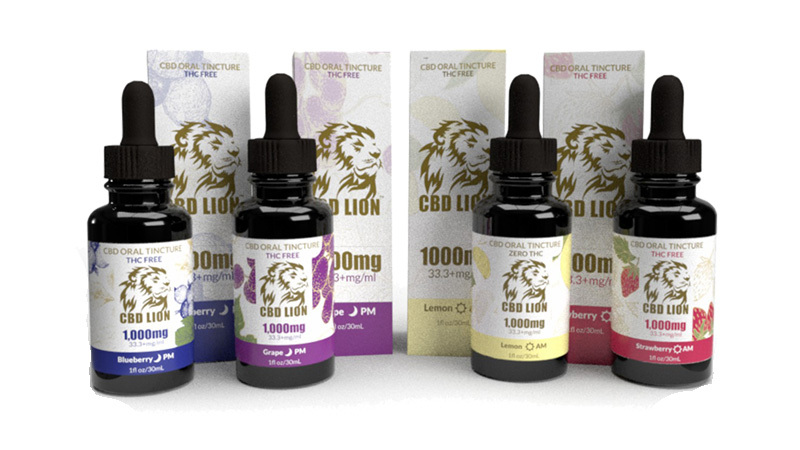 The CBD Oil Tincture of CBD Lion is one of its most popular products. This product comes in different potencies — 250mg to 5000mg CBD — in a 30 mL bottle. It uses MCT oil as its carrier oil and is available in two formulations — full-spectrum and broad-spectrum CBD. The product is designed for sublingual use.
Most of CBD Lion's tinctures are unflavored, but its 1000mg CBD variants come in various flavor options such as blueberry, grape, lemon, mint chocolate, mocha, and strawberry. Its flavored tinctures are perfect for those who don't like the earthy, nutty, and grassy taste of unflavored CBD tinctures.
The varying potencies of its tinctures can suit any CBD user — from beginners to experienced CBD users. Its CBD oil tinctures are potent, safe, and easy to use. They can help relieve anxiety, pain, and inflammation caused by chronic conditions such as nerve pain.
2. CBD Gummies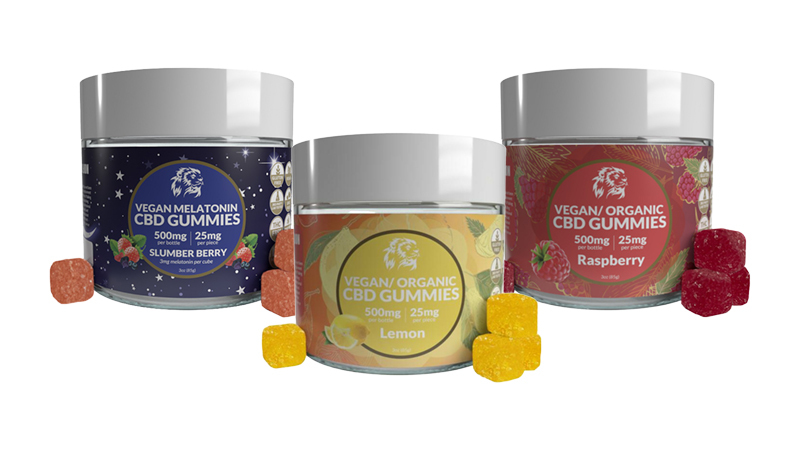 The CBD gummies from CBD Lion are another popular product. These contain CBD isolate and other organic and vegan-friendly ingredients. The product is designed for daily use, with each gummy containing 25mg of CBD.
It's available in three flavor profiles — lemon, strawberry as well as raspberry. The brand also offers a variant that's infused with melatonin. This is an ideal option if you're looking for a product that can help you have a good quality sleep. Each gummy has an additional 3mg of melatonin.
Its CBD gummies are a great, tasty, and discreet way of getting your daily CBD dose. Consumers not only love the taste but also find that the product helps with pain, anxiety, stress relief especially for patients with PTSD, and sleep problems. This product is slow-release with an onset time of an hour and an effect that can last up to six hours.
3. CBD Capsules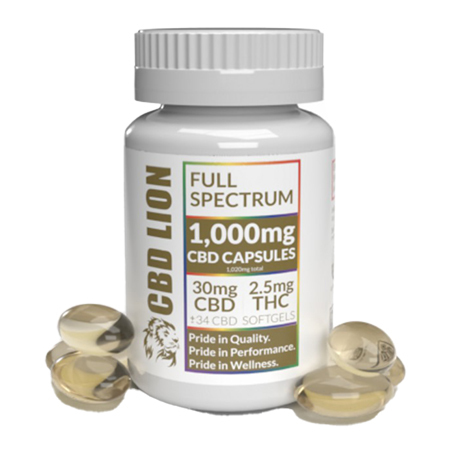 CBD capsules are another way of getting your daily dose of CBD. These softgel capsules are organic, vegan-friendly, and designed for oral ingestion. One bottle contains 34 capsules, and each capsule contains 30mg of broad-spectrum CBD.
Similar to its CBD gummies, these CBD capsules are also slow-release, with effects lasting up to six hours. One capsule is equivalent to one full dropper of its 1000mg CBD tincture, which makes it perfect for those who want to avoid the tincture's grassy aftertaste.
These CBD capsules help with pain relief, anxiety, stress relief, and sleep problems. It's recommended to anyone who wants an easy and discreet way of taking their CBD supplement.
4. Hemp Flower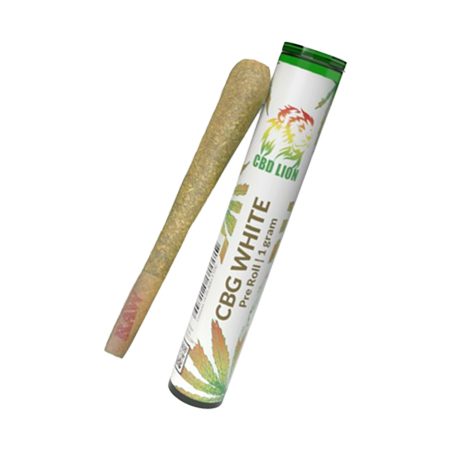 The hemp pre-rolls from CBD Lion are another crowd favorite. Made with organic hemp buds, its flavorful and aromatic pre-rolls contain rich amounts of cannabinoids and terpenes. Each packet has two pre-rolls, with each pre-roll weighing at 1g.
The product comes in two types — CBG white as well as Sour Space Candy. CBG White pre-roll boasts a floral and fruity aroma and flavor with rich notes of vanilla and pine. Smoking this product can help clear your mind without producing any psychoactive effects. On the other hand, Sour Space Candy has an earthy, sweet, and berry aroma and flavor with hints of lemon and diesel. Smoking this pre-roll promotes relaxation.
Both pre-rolls contain less than 0.3% THC and rich levels of cannabinoids like CBD, CBG, and CBC. CBG White, compared to Sour Space Candy, has more CBG than CBD. It's important to note that some states ban the use of smokable hemp, so this product may not be available in states like Kentucky.
This product is organic and has no additives. It helps with pain and swelling as well as stress and anxiety. It also helps with sleep problems.
Smoking pre-rolls delivers fast onset of effects, and you'll feel the effects kick in in about 15 minutes.
5. CBD Bath Bomb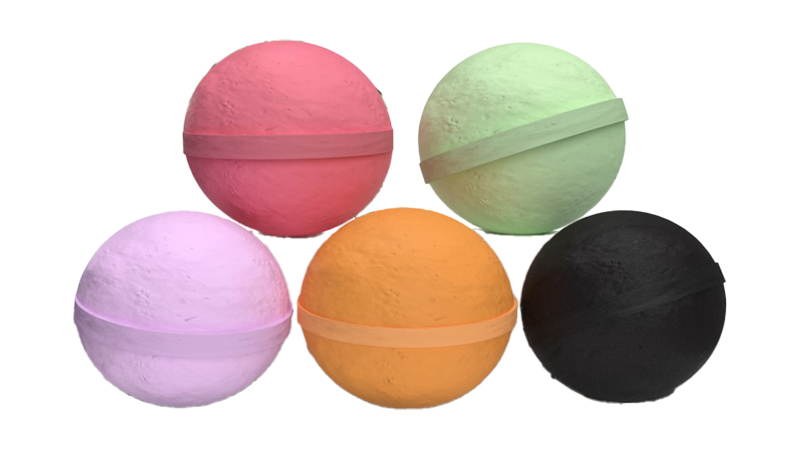 CBD Bath Bomb from CBD Lion is also a crowd favorite not only for its different aromas but for therapeutic benefits as well. It's designed to help you relax and de-stress, with each bomb containing 100mg of CBD Isolate.
Its CBD Bath Bomb comes in different scent options — lavender, charcoal, citrus, rose, and eucalyptus- an organic, gluten-free, and vegan-friendly product. These bath bombs lend their aroma to the bathwater and, at the same time, offer unique health benefits. They help detoxify and rejuvenate your skin, and their unique scents help boost mood and relax the mind. These bath bombs also leave your skin feeling soft and hydrated.
This product helps with body pains and stress. You can buy this product in singles, two-pack, three-pack, and five-pack.
6. CBD Pet Tincture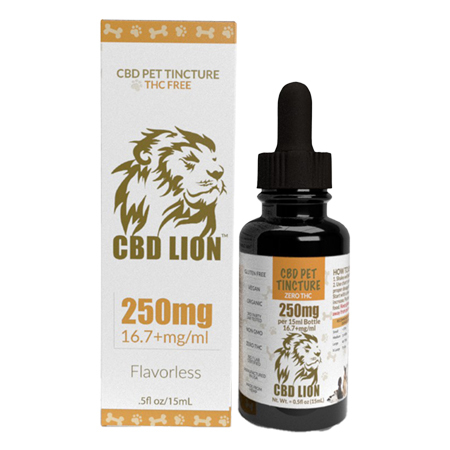 The CBD Pet Tincture from CBD Lion is designed to help with your furry friend's health. The tincture comes in three flavors — peanut butter, turkey, and flavorless. Its potencies range from 250mg to 500mg of CBD isolate, making it perfectly safe for pets of different sizes. It's also organic and vegan-friendly.
This product is THC-free and helps relieve your pet's joint pains, stress, separation anxiety, appetite loss, and sleep problems. It also helps with aggression and calms your pet down.
CBD dosing for pets differs based on their size and weight, so please refer to a pet dosage chart or get in touch with your vet for proper dosing.
Where to Buy
CBD Lion's products are available both online and in-stores.
Online
All CBD LIon products are available on its website. Its website contains comprehensive product information such as ingredients, benefits, lab results, and how to use it. You can also see the ratings and reviews of each product.
In-Stores Near You
Aside from purchasing through its website, CBD Lion products are also available in various dispensaries across the country. To know which dispensary carries this brand near your area, you may use the company's store locator.
What's CBD Lion's Return Policy?
If you're not happy with the product or it came damaged, you can avail of CBD Lion's return policy, provided that you haven't opened the product or used it within 30 days of delivery. You're required to shell out a 30% restocking fee, and you also have to pay for the return shipping. If your claim gets approved, you can expect to receive your refund within 4 weeks.
Conclusion: Is CBD Lion Worth Buying?
Overall, CBD Lion is a well-known CBD brand that has been around since 2017. It's a family-owned business led by experts who are dedicated to providing safe and high-quality CBD products.
It offers a wide variety of organic CBD products — from different CBD types and potencies to different aromas and flavors. All of its products are third-party tested for potency and purity, although some are outdated and need updating.
The company also has a return policy in place, but it's not without its faults. All in all, CBD Lion is a good and affordable brand that you can trust.